Renowned Speakers

Dr. Ahmed G. Hegazi
Professor Egypt

Sergey V. Petoukhov
Head of the Laboratory of biomechanical systems Mechanical Engineering Research Institute of the Russian Academy of Sciences Russia
Omid Akbarzadeh
Researcher Nanotechnology & Catalysis Research Centre, Malaysia

Dr. Hosam Bayoumi Hamuda
Professor Institute of Environmental Engineering Hungary

Main Naser Alolayyan
Assistant Professor Jordan University of Science and Technology Jordan

Anka Trajkovska Petkoska
Professor University St. Kliment Ohridski-Bitola N. Macedonia
LAI CHIN WEI
Deputy Vice Chancellor(Research & Innovation) Nanotechnology & Catalysis Research Centre Malaysia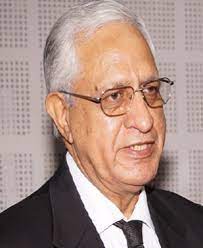 Dr. Brij. M. Gandhi
CEO and founder India
Recommended Global Microbiology Webinars & Conferences
Biotechnology 2023
About Conference
We are happy to inform you about the "27th World Congress on Biotechnology" going to be held on "May 16, 2023", in "Prague, Czech Republic".
Biotechnology merely advances accuracy to a new degree in the current decade. Like past innovations, biotechnology has a lot to offer, particularly in three major areas: improved human health, increased yields, and environmental protection.
Our conference offers a forum for the exchange of information about cellular and biomolecular processes in order to develop technologies and goods that enhance both our quality of life and the environment.
The conference "Biotechnology 2023" brings together all distinguished speakers and academic professors, research students, business delegates, and entrepreneurs with a great interest in biotechnology.
Biotechnology 2023 includes -
Keynote presentations
Plenary talks
Speaker presentations
Young Research Forum
Poster presentations
Exhibitions

Biotechnology 2023 provides a great opportunity for young researchers and students to present ongoing research work and get valuable feedback from our eminent speakers and advise them on how to enhance research work. It may provide new insight.
Sessions/Tracks
TRACK 1 -Agricultural Biotechnology
It is the branch of biotechnology that deals with the genetic manipulation of gnens,crop and livestock improvement with the help of biotechnology tools . The growing of plant cells, tissues, or organs on specifically designed nutritional media is known as tissue culture. A single cell can be used to regrow an entire plant under the appropriate circumstances. Tissue culture comes in a variety of forms based on the plant portion (explant) that is being used. The global agricultural biotechnology market was valued at US$ 28.6 Bn in 2021 ; It is estimated to grow at a CAGR of 9.5% from 2022 to 2031.
TRACK 2-Animal Biotechnology
Animals are genetically engineered (i.e., their genomes are modified) using molecular biology techniques in the field of animal biotechnology in order to make them more suitable for use in pharmaceutical, agricultural, or industrial purposes. The global animal biotechnology market is expected to register a CAGR of 4.7% during the forecast period. As per the data from the Centres for Disease Control and Prevention (CDC) updated in April 2022, cats, dogs, and a few other types of animals were at potential risk of acquiring the Coronavirus.
TRACK 3 -Applied Immunology
It provides services to encourage the growth of biological therapeutics such as monoclonal antibodies, vaccines and diagnostics. It is subdiscipline of immunology. A vaccine is a biological preparation that confers active acquired immunity against a specific infectious disease. The global immunology market is projected to grow from $92.00 billion in 2021 to $158.69 billion in 2028 at a CAGR of 8.1% in forecast period, 2021-2028.
TRACK 4 -Bioinformatics
Bioinformatics is outlined because the application of tools of computation associated analysis to the capture and interpretation of biological data. it's an knowledge base field, that harnesses computer science, mathematics, physics, and biology. A biological database could be a large, organized body of persistent data, sometimes related to computerised software package designed to update, query, and retrieve elements of the information keep among the system. The global bioinformatics market is projected to reach USD 21.8 billion by 2026 from USD 10.7 billion in 2021, at a CAGR of 15.2% during the forecast period.
TRACK 5 -Biomedical Engineering
Biomedical engineering, often known as medical engineering, is the application of engineering ideas and design concepts to medicine and biology for the purpose of providing healthcare. BME is also known as "bioengineering," but this word has come to refer to biological engineering as well. The worldwide marketplace of biomedical engineering is predicted to attain US$ 4,573.24 Mn in 2027 from US$2,572.26 Mn in 2018. The Antiviral drug resistance marketplace is predicted to develop with a CAG of 6.8% from 2019-2027.
TRACK 6 -Biopharming
Biopharming, also known as molecular plant breeding, refers to the use of genetically engineered plants to produce a variety of pharmaceuticals and industrial products. Bt Crops, which are transgenic plants that produce the same toxin as the Bacillus thuringiensis bacteria in the plant cell. The "cry proteins" which are unique proteins secreted by the bacteria and harmful to insects Cotton, brinjal, corn, and other crops are a few examples of Bt crops. The biopharmaceuticals market was valued around USD 401.32 billion in 2021. It is expected to reach USD 534.19 billion in 2027, recording a CAGR of 7.32% over the forecast period (2022-2027).
TRACK 7 -Bioprocess Engineering
It deals with the architecture and advancement of equipment and methods for the manufacturing of products such as agriculture ,food, feed , pharmaceuticals , neutraceuticals chemicals and polymers from biological materials and treatment of waste water. Bioprocess engineering is a conglomerate of mathematics , biology and industrial design, and consists of multiple spectrums like designing of bioreactors, fermenters and their mode of operation. The global Bioprocess Technology Market was valued at US$ 17.3 Bn in 2020 and is anticipated to register a CAGR of 15.2% throughout the forecast amount from 2021 to 2031. it's projected to come up with a revenue of US$ 81.2 Bn by the tip of 2031.
TRACK 8 -Biosafety levels
A biosafety level (BSL), or pathogen/containment level, is a set of safeguards required to isolate hazardous biological agents in a contained laboratory facility. The safety levels range from the lowest biosafety level 1 (BSL-1) to the highest level 4 (BSL-4). In the United States, the Centres for Disease Control and Prevention (CDC) set these values. The global biological safety cabinets' market size was valued at USD 158.88 million in 2019 and is expected to grow at a compound annual growth rate (CAGR) of 7.5% from 2020 to 2027.
TRACK 9 -Environmental Biotechnology
It is described as a branch of biotechnology that addresses environmental problems, such as the genetic rescue of a species, the elimination of pollutants , renewable energy generation of biomass production, all by utilizing biological methods for the safety and regeneration, redevelopment and rebuilding of the quality of the environment. The global environmental watching market size was valued at $19.89 billion in 2020, and is projected to achieve $43.48 billion by 2030, growing at a CAGR of 8.2% from 2021 to 2030.
TRACK 10 -Enzymology
Proteins called enzymes serve as biological catalysts by quickening chemical reactions. Substrates are the molecules that enzymes can interact with, and the enzyme changes the substrates into other molecules known as products. The enzymes market is estimated to be valued at USD 10.0 billion in 2019 and is projected to reach USD 14.7 billion by 2025, recording a CAGR of 6.7% in terms of value.
TRACK 11 -Food Technology
Food technology is a type of study that deals with the production, preservation, internal control and research and development of the food products. Early research into food technology focused on food preservation. The global food preservatives market is expected to grow from USD 3.3 billion in 2021 to USD 4.0 billion by 2026, at a CAGR of 4.1% from 2021 to 2026.
TRACK 12 -Forensic Biotechnology
Forensic science, also known as criminalistics, is the application of science to criminal and civil law, principally the criminal side of criminal investigations as governed by legal standards of admissible evidence and criminal procedure. Forensic pathology is pathology that focuses on determining the cause of death by scrutinizing a corpse. The worldwide forensics biotechnology marketplace become valued at $15.2 billion in 2020, and is projected to reach $44.three billion with the aid of using 2030, developing at a CAGR of 11.2% from 2021 to 2030.
TRACK 13 - Genetic Engineering
Genetic engineering, often known as genetic alteration, is a technique that modifies an organism's DNA using technology developed in labs. This might entail altering a single base pair (A-T or C-G), erasing a section of DNA, or incorporating new section of DNA. It is a powerful tool in order to change the surface composition and regulate how the cell interacts with its surroundings. The global genome editing/genome engineering market is projected to reach USD 11.7 billion by 2026 from USD 5.1 billion in 2021, at a CAGR of 18.2% during the forecast period of 2021 to 2026.
TRACK 14 -Imaging
It is also called as radiology. There are many different types of imaging, such as X-rays, CT (computed tomography) scans, MRI (magnetic resonance imaging) and ultrasound. Each imaging type uses a different technology to create an image. Medical Imaging Market size surpassed USD 38.5 billion in 2021 and is expected to witness a 5.1% CAGR from 2022 to 2030.
TRACK 15 -Industrial Biotechnology
It is also known as white biotechnology. It uses enzymes, chemicals and microbes to produce goods for the industry like drugs antibiotics acids The global industrial biotechnology market size is expected to reach USD 852.55 Billion in 2030 and register a revenue CAGR of 9.9% over the forecast period, according to the latest report by Reports and Data. Rise in demand for new approaches to prevent pollution, conserve resources, and increase application in biofuels is driving market revenue growth.
TRACK 16: Insect Biotechnology
Insect biotechnology creates goods or services by applying biotechnological techniques to insects (or their cells). These novel chemicals have potential in industrial biotechnology, medicine, and sustainable plant protection. This indicates that the conceptual frameworks of biotechnology are applied to insect biotechnology. In particular, scientific advances in molecular biology—particularly the creation of tools and methods that permit the genetic characterization and engineering of organisms and cells, as with recombinant DNA technology and plant protoplast fusion—have influenced and inspired insect biotechnology. Recently, bacteria were modified to carry and express silk genes from the mulberry silkworm, Bombyx mori. These bacteria were then utilised to produce synthetic silk, a natural protein fibre that can be weaved into textiles in some forms.
TRACK 17 -Metabolomics
It is an analytical identification technique for measure and scrutiny massive numbers of metabolites gift in biological samples. Combining high-throughput analytical chemistry and variable information analysis, metabolomics offers a window on metabolic mechanisms. as a result of they intimately utilize and infrequently wire host metabolism, viruses are a wonderful option to study by metabolomics techniques. The global metabolomics market size is projected to reach USD 4.1 billion by 2025 from USD 1.9 billion in 2020, at a CAGR of 13.4% during the forecast period.
TRACK 18-Microbial Biotechnology
It is an established branch of biotechnology that involves the application of microorganisms with emerging modern biotechnology techniques for the development of sustainable agriculture. Microbial biotechnology deals with the genetic engineering of living organisms or their components to produce valuable products for various applications. The global microbes and microbial products market should reach $302.4 billion by 2023 from $186.3 billion in 2018 at a compound annual growth rate (CAGR) of 10.2% for the period 2018-2023.
TRACK 19 -Nano Biotechnology
Nano biotechnology is a multi-strategic technique that combines nanotechnology and biotechnology to improve the properties of therapeutics e.g., target delivery of therapeutics by nanoparticles, in a unique way as paradigm shifts from fundamental biological study to clinical pharmacology. The global marketplace for nanobiotechnology ought to grow from $38.5 billion in 2021 to $68.4 billion by 2026, at compound annual rate of growth (CAGR) of 12.2% for the amount of 2021-2026.
TRACK 20-Regenerative Medicine
The international regenerative medicinal drug marketplace length become valued at $10,107.32 million in 2020, and is predicted to reach $83,196.72 million via way of means of 2030, developing at a CAGR of 23.4% from 2021 to 2030. Regenerative medicinal drug is an rising discipline that pursuits to restore and update broken organs.
Market Analysis
The global biotechnology market size was estimated at USD 1,023.92 billion in 2021 and is expected to grow at a compound annual growth rate (CAGR) of 13.9% from 2022 to 2030. The market is driven by strong government support through initiatives aimed at modernization of regulatory framework, improvements in approval processes & reimbursement policies, as well as standardization of clinical studies. The growing foothold of personalized medicine and an increasing number of orphan drug formulations are opening new avenues for biotechnology applications and are driving the influx of emerging and innovative biotechnology companies, further boosting the market revenue.
As per the Alliance for Regenerative Medicine, companies developing cell and gene therapies raised over USD 23.1 billion in investments globally in 2021, an increase of about 16% over 2020's total of USD 19.9 billion. The clinical success of leading gene therapy players in 2021, such as promising results from an in vivo CRISPR treatment for transthyretin amyloidosis, developed by Intellia Therapeutics and Regeneron, are significantly affecting the market growth. Rising demand for clinical solutions for the treatment of chronic diseases, such as cancer, diabetes, age-related macular degeneration, and almost all forms of arthritis are anticipated to boost the market.
Furthermore, vortex bioreactors have also been improvised for wastewater processing, to offer enhanced operational feasibility. These modifications and improvements in fermentation technology are expected to accelerate market growth in the near future. CAR T and TCR T-cell therapies are being explored as potential treatment options against chronic viral infections, such as HIV, hepatitis B, and SARS-CoV-2. For instance, scientists at Duke-NUS Medical School are evaluating the use of T-cell therapy in combating the COVID-19 infection. Scientists have demonstrated that TCR-redirected T cells exhibit a functional profile comparable to that of SARS-specific CD8 memory T cells obtained from patients who have recovered from the infection.
Global biotechnology market encompasses:
AstraZeneca
Gilead Sciences, Inc.
Bristol-Myers Squibb
Sanofi
Biogen
Abbott Laboratories
Pfizer, Inc.
Amgen, Inc.
Novo Nordisk A/S
Merck KGaA
Johnson & Johnson Services, Inc.
Novartis AG
F. Hoffmann-La Roche Ltd.
Best Global Universities for Biotechnology
Harvard University.
Massachusetts Institute of Technology.
Stanford University.
University of California--San Diego.
University of Cambridge.
Technical University of Denmark.
University of Chinese Academy of Sciences.
University of Oxford.
Cornell University.
The University of Queensland ,Australia
Top Countries for Biotechnology Research
USA.
Canada.
Australia.
New Zealand.
UK.
Ireland.
Sweden.
Malaysia
To Collaborate Scientific Professionals around the World
Conference Date May 15-16, 2023
For Sponsors & Exhibitors
Useful Links
Past Conference Report